When it comes to cultural celebrations, nowhere does it quite like Liverpool. Walking through the city this time last week, the streets had been taken over by Eurovision fever as the world became united by music, right on our very doorstep. The same thing happened when Liverpool was named Capital of Culture in 2004. Once again, our city made the headlines as the people of Europe celebrated the culture and creativity of the place we call home.
It's cultural moments such as these that can act as a major catalyst for economic growth and opportunity, and, says our CEO Anna Heyes, create a wealth of opportunity for creative and digital businesses across Liverpool City Region.
Last week, Anna joined a panel of fellow creative industry leaders to celebrate and discuss Liverpool as a thriving creative and digital hub, and how it can avoid being overshadowed by its northern counterparts such as Manchester and Leeds.
The event, Beyond Eurovision: where next for Liverpool's thriving creative sector, was hosted by Prolific North and discussed what business leaders can do to nurture and retain the region's creative talent.
When Prolific North Editor David Prior asked the panel about the lessons they had learnt whilst retaining and securing talent, it was agreed across the board that culture in Liverpool has seen a huge shift over the past decade.
In her answer to David, Anna talked about how there is a real entrepreneurial spirit in the city, and collaboration with other creative businesses in the sector is more prolific than ever.
She said: "A lot has changed in Liverpool, but what hasn't is its entrepreneurial spirit. There is the idea that you can start something and get support from other businesses and the opportunity to collaborate with likeminded organisations. You might say that this happens in other places, but we have worked in other cities and regions, and I don't necessarily see that happening everywhere."
This collaborative spirit has allowed a way for businesses to create their own initiatives alongside the work they produce for clients. For example, through collaboration, Active Profile has been able to set up successful projects such as Tech Climbers and Inspired Spaces.
Agent Marketing's Paul Corcoran added that collaboration is more important than ever before. Paul told the panel that a programme like Agent Academy couldn't have come out of another city and said that cross-industry collaboration is what has made the academy become the success that it is today: a portal for incredible, homegrown talent to find their vocation across the many indigenous businesses in need of creative professionals.
Speaking to the panel, Paul said: "The ecosystem in Liverpool isn't as big as other cities across the country, and we're only just really beginning to see the emergence of a strong creative digital and tech sector. Supporting each other in the work that we do helps us talk and learn and ultimately progress. That's fundamentally important and the spirit in Liverpool is perfect for this."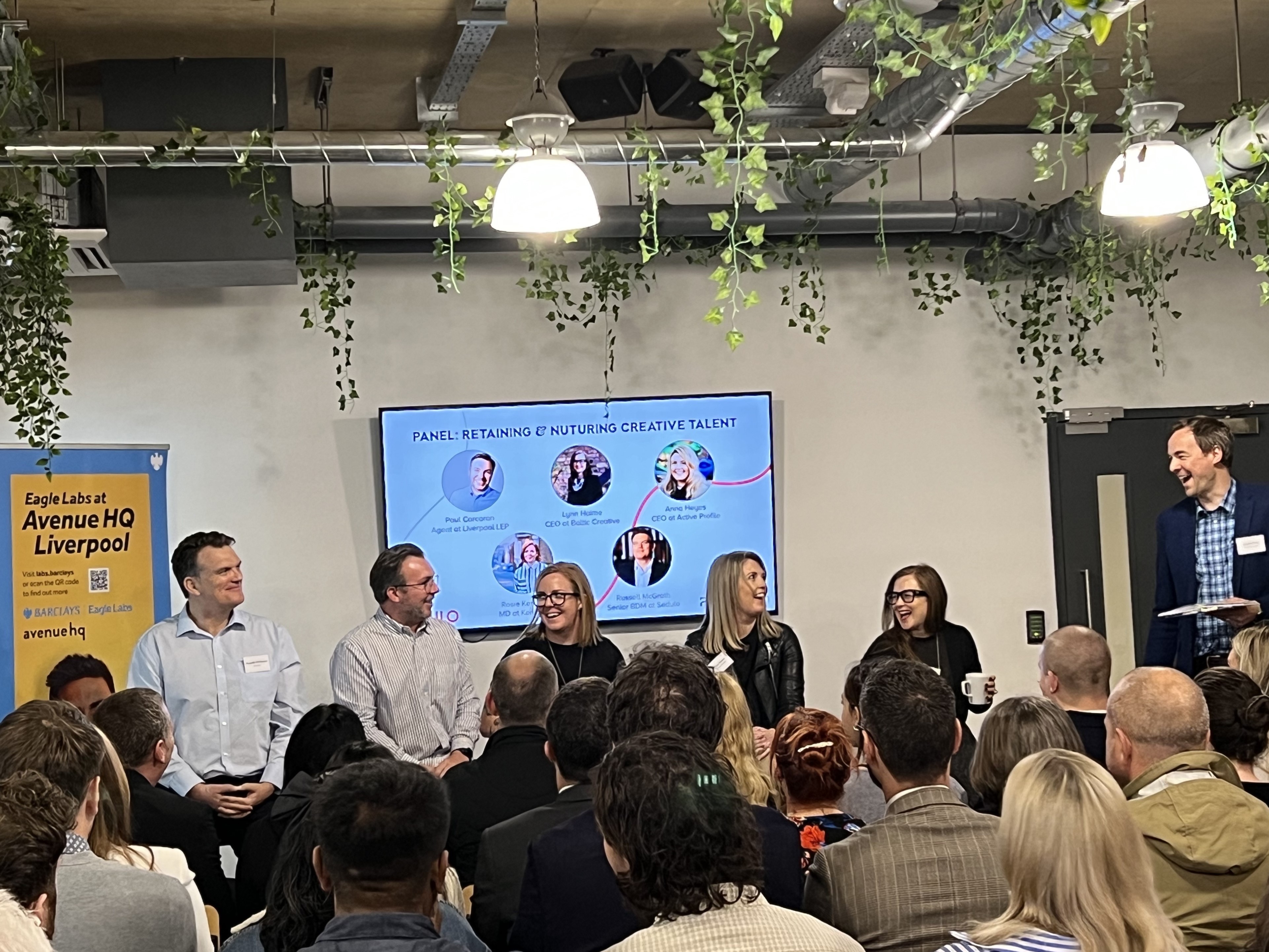 Retaining talent

When it comes to retaining talent, flexibility was the theme that echoed throughout the discussion. Anna made the point of Liverpool's geographic location, and how travelling in and out of the city can act as an obstacle for those who might struggle to access places such the Baltic Triangle under non-flexible working agreements.
Adopting flexible working as a result of the pandemic has become a mainstay of Active Profile's way of doing things because it offers our people the flexibility to use their time effectively, work to the best of their ability, and also levels out the work-life balance that might suffer under long commutes to and from the office.
In terms of the region as a whole, it was noted that transport links could be better for the city and that Baltic Triangle, Liverpool's main hub of activity for creative and digital businesses, is in desperate need of a train station. Lynn Haime, CEO of Baltic Creative CIC, told the panel that a lack of proper transport infrastructure could act as a deterrent in the decision making of big global players setting up shop in the area.
But geography aside, it's the little things that happen in the day to day that really nurture and retain your talent. At Active Profile, we have a weekly team lunch that is marked in every person's diary and is an opportunity for us all to get together and chat over some homecooked food, allowing ourselves an hour out of the day to facilitate conversations that might not be about client work and deliverables.
That said, Anna stressed the importance of open and honest discussions in a collaborative team environment. Taking inspiration from agencies in places like Sweden and Denmark, at Active Profile, making your voice heard is encouraged. Brainstorming and campaign meetings act as a platform for everyone's ideas to be considered at an equal level, whatever their seniority or role on the project. Open, creative environments are a key part of our success as a business, and what helps our people to grow within their roles and the wider objectives of the company.
When you put a panel of creative sector leaders together to talk about the successes of our city, it's easy to see that Liverpool has its place in the national creative arena. Last week's event was testament to that. Like the panellists said, collaboration in Liverpool is now more important than ever, which is why it's great to see the sector coming together as a community, sharing valuable insights that prove we can compete with the likes of London and Manchester.